Come together in support of The Whole Teacher on May 11th at 7 pm et!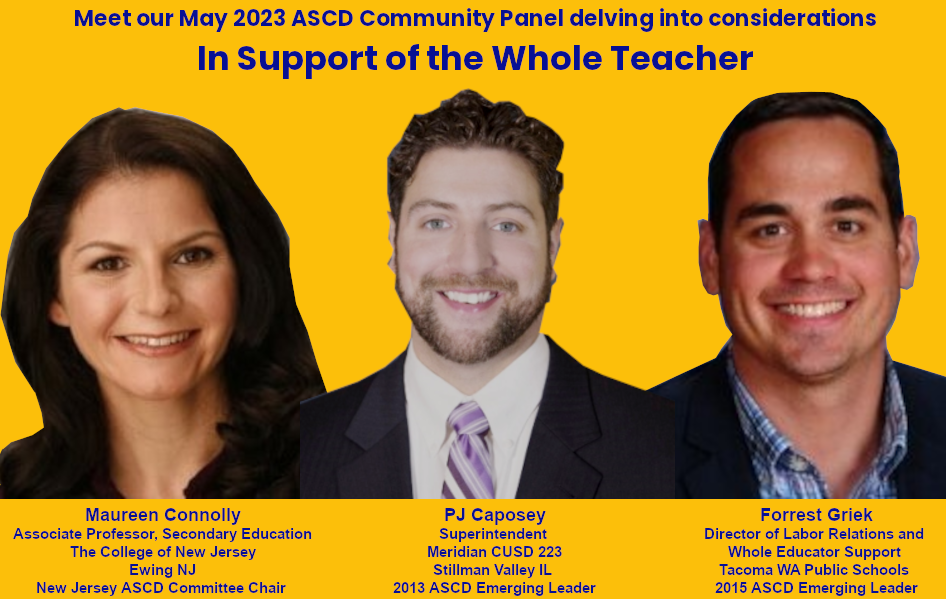 Join PJ Caposey, Maureen Connolly and Forrest Griek Thursday, May 11, 2023 at 7:00 p.m. e.t. for an ASCD Community Panel on the considerations and implications for supporting the Whole Teacher on your staff!

Maureen Connolly is an Associate Professor of Secondary Education in the Department of Educational Administration and Secondary Education at the College of New Jersey. She is the author of Creating Positive Classroom Climate: 30 Practical Strategies for All School Contexts (2022) and authored a blog post, Recharging in 2022 that remains vitally relevant for 2023!

PJ Caposey is the superintendent of the Meridian Community Unit School District 223 in Stillman Valley, Illinois. He is a prolific writer and speaker, including Manage Your Time or Time Will Manage You: Strategies That Work from an Educator Who's Been There (2018). PJ is a 2013 ASCD Emerging Leader and a member of the Houghton Mifflin Harcourt and Institute for Education Innovation advisory boards.

Forrest Griek is the Director of Labor Relations and Whole Educator Support at Tacoma Public Schools in Washington state. Formerly, he was a principal with the Tukwila, Washington Schools and as a member of the Washington State ASCD board of directors. Forrest is a 2015 ASCD Emerging Leader and a member of the board of directors of the Hilltop Artists nonprofit group.

Learn more and RSVP for free here.